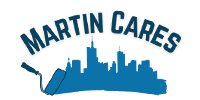 Want to support the Martin Cares Event?
If you are a community leader who cares about Shreveport as much as we do, please join us. We're inviting local leaders and organizations to be a part of making our beautiful city even better.
The families in our community deserve safe and fun spaces to be together. That's why we're going to revitalize four local parks: Kings Highway, Hattie Perry, the Fair Grounds, & the Reisor Playground.
Community sponsors are the primary source of funding for this event and help ensure its success.
Sponsorship Form
Volunteer Sign Up